As we approach Easter, I find myself asking this question, again: What is the time-line of Jesus' crucifixion? How did Jesus spend the final days and hours leading up to His Death and resurrection? And how can we explain it in chronological order?
The 4 Gospels Matthew, Mark Luke and John recorded the life of Jesus Christ – what He was like, what He lived for and the events leading up to His Death. Their records were detailed, yes, but they are all so scattered on the pages of the Bible, it difficult to keep a track of the events. There are historical gaps and things in the different accounts that don't add up perfectly.
A Chronological Look at How Jesus Probably Spent His Last Week
This is an attempt to construct the final week Jesus spent on the Earth, a day-by-day account, and hourly account towards the end.
The Passion week, as we now call it, clearly started from the day we celebrate as the Palm Sunday. But for interest sake, I'm starting from the Saturday – the day before the Palm Sunday
SATURDAY
The Anointing at Bethany by Mary: SIX DAYS before Passover, in the house of Lazarus/Simon, Mary took beautiful alabaster jar of expensive perfume and broke it to anoint Jesus, prophetically "anointing Jesus' body for burial ahead of time"
Matt 26:6-13; Mark 14:3-9; (Luke 7:36-50); John 12:1-8
 SUNDAY: The Palm Sunday / Triumphant Entry
Jesus took the 5km (about 2-mile) journey to Jerusalem from Bethany, but He often returned to Bethany to spend the night.
Approaching Jerusalem – Jesus' Triumphant Entry to Jerusalem On Colt, in the center of the procession, with people shouting Hosanna! Matt 21:1-9; Mark 11:1-10; Luke 19:28-40; John 12:12-19
Jesus Weeps for Jerusalem, because He knew one Roman Emperor Nero will soon come and destroy it. Luke 19:41-44
Jesus at the Temple – He entered the Temple and scanned through it. Matt 21:10-17; Mark 11:11
Jesus then Returned to Bethany, where he stayed overnight. Matt 21:17; Mark 11:11; (Luke 21:37)
 MONDAY
The Cursing of the Fig Tree when He was on the way back to Jerusalem. Matt 21:18-19; Mark 11:12-14
Jesus protests financial transactions within the temple; argues with chief priests – The Cleansing of the Temple – He began to drive out all the people buying and selling and stalls of money changes and animal merchandise, then taught and healed. People were amazed Matt 21:12-13; Mark 11:15-19; Luke 19:45-48
Jesus and His Disciples Left Jerusalem again to Bethany/Mount Olives (Note Bethany is situated on the slopes of Mount Olives). Mark 11:19; Luke 21:37.
TUESDAY
Jesus' week at this point starts to get quite hectic and busy… Jesus predicts /announces the date of his execution; He has debates with religious leaders; and responds to question about greatest commandment, etcetera.
I have tried here to divide the discourses into different sections (strictly for explanation purposes):
The Fig Tree is Withered (Morning). His disciples (Peter) were surprised next day when the saw fig tree had withered and died. Matt 21:20-22; Mark 11:20-26
Discourse I – The Parable of the Two Sons the one who did the Will of their father and the one that didn't – Matt 21:28-32; the wicked husbandman who killed the master's son & Heir – Matt 21:33-46; Mark 12:1-12; Luke 20:9-19; etcetera
Discourse II – The Parable of the Great Supper/ On Paying Tribute to Caesar/ The Great Commandment / Resurrection Debate with the Sadducees on whether there's marriage in heaven, etc Matt 22:1-33; Mark 12:13-27; Luke 14:15-28; etcetera.
Discourse III – He had a final discourse with the Pharisees where He asked: "Whose son is the Messiah?". Then that was the end of His discourse the Public: "No one could answer him. And after that, no one dared to ask him any more questions". Matthew 22:46. The next questions were after His Arrest.
Woe to the Scribes and Pharisees – Matt 23:1-36; Mark 12:37-40; Luke 20:45-47
Jesus' Lament over Jerusalem, and did say His farewell Matt 23:37-39; (Luke 13:34-35)
THE OLIVET DISCOURSE: STILL ON TUESDAY
Before Leaving the Temple:
He observed The Widow's Mite as she gave her all. Mark 12:41-44; Luke 21:1-4
While He was Leaving Temple:
As Jesus was leaving the Temple grounds, some of his disciples began talking about the majestic stonework of the Temple and the memorial decorations on the walls. They pointed out to Him the various Temple buildings. He immediately gave the prediction of the Temple's Destruction Matt 24:1-2; Mark 13:1-2; Luke 21:5-6
Jesus told them: "Do you see all these buildings? I tell you the truth, they will be completely demolished. Not one stone will be left on top of another!"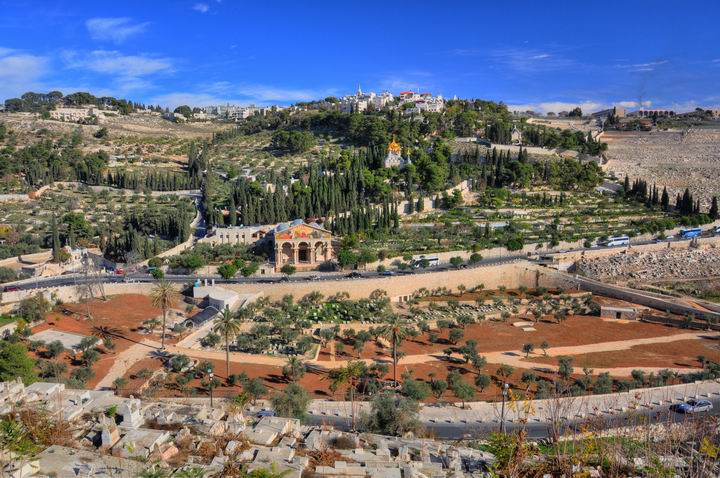 On Mount of Olives
Jesus went full swing into Prophetic Mode and talked about future events.
These include:
the signs of the end, Persecutions, The Desolation, The Coming of the Son of Man, The Time of the Coming: Fig Tree Parable, and so forth. Matt 24; Mark 13; Luke 21
He Concluded His Olivet Discourse with special parables to emphasize His point that His followers should be ready as they did not know when the Master would return:
The Parable of the Flood, comparing His coming with Noah's flood and people's unpreparedness. Matt 24:37-44; (Luke 17:26-36; 12:39-40)
The Parable of the Servants who stayed faithful. Matt 24:45-51; (Mark 12:41-46)
The Parable of the Ten Virgins, 5 wise and 5 foolish. Matt 25:1-13
The Parable of the Talents and stewards who received 5, 2, and 1. Matt 25:14-30; (Mark 13:34); (Luke 19:11-27)
Sheep and Goats/Last Judgment. Matt 25:31-46
Obviously, Jesus left Jerusalem and Lodged on Mt. Olives again. Luke 21:37-39
WEDNESDAY
The Passover is in two days away and Jesus predicted His death again, specifically mentioning "crucifixion". Matt 26:2
The Final Plot to Kill Jesus – the leading priests and elders were meeting at the residence of Caiaphas, the high priest plotting how to capture Him secretly, for fear of a riot. Matt 26:1-5; Mark 14:1-2; Luke 22:1-2; (John 11:47-53)
Judas's Betrayal Agreement/Contract – he actually went to the leading priests and captains of the Temple guard to discuss "the best way to betray Jesus to them". They promised him money for his efforts. Matt 26:14-16 ; Mark 14:10-11; Luke 22:3-6; (John 13:2; 13:27; 6:70-71)
As a daily routine, Jesus left Jerusalem and Lodged on Mt. Olives again. Luke 21:37-39
THURSDAY
The day eventually arrived when "everything" would be happening
3:00-5:00 pm Thursday: TIME FOR SLAYING OF LAMB.
The Passover lamb must be slayed traditionally at this time on Thursday.
Prior to this time, as part of Passover Preparations Jesus sent Peter and John to Jerusalem to prepare A Large Upper Room "that is already set up" for Him and the remaining disciples. (Jerusalem residents normally open their houses for guests during festival period). Matt 26:17-20; Mark 14:12-17; Luke 22:7-14
6:00-11:30 pm, Thursday:  AT THE UPPER ROOM
JESUS HAD HIS LAST SUPPER WITH DISCIPLES – The PASSOVER MEAL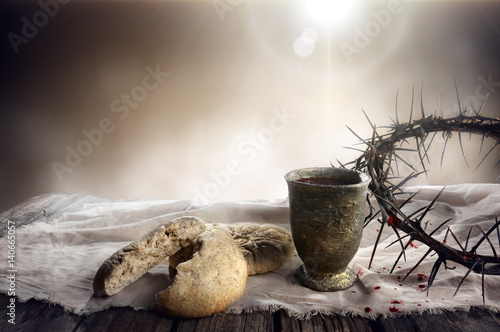 Jesus and His Disciples returned to Jerusalem to eat the Passover Meal. He told them: "I have been very eager to eat this Passover meal with you before my suffering begins. For I tell you now that I won't eat this meal again until its meaning is fulfilled in the Kingdom of God." Luke 22:15-16
These are some of the events that happened during that period:
Washing the Disciples' Feet, which obviously must have been dusty from the 5km walk from Olives; and more importantly, to teach them humility. Luke 22:24-30; John 13:1-20
Jesus Foretells his Betrayal by one of them seated there with Him. Matt 26:21-22; Mark 14:18-19; Luke 22:21-23; John 13:21-22
Peter asked John if he knew the identity of Jesus' Betrayer. John 13:23-25
Jesus Identifies His Betrayer without mincing words – Judas Iscariot; and said woe to him. Matt 26:23-25; Mark 14:20-21; Luke 22:21-23; John 13:26
The Last Supper: Jesus Instituted the Holy Communion, describing the Bread as His Body, and the Wine as His Blood. Matt 26:26-29; Mark 14:22-25; Luke 22:15-20; 1 Cor 11:23-25
The Exit of Judas from the Table, obviously to pursue his betrayal agenda. But others thought that since Judas was their treasurer, he went to buy more supplies. John 13:26-30
HIS FINAL WORDS. At this point, Jesus went ahead to say His Last Words to His Disciples and institute other new doctrines. Central to these was the Promise of the Holy Spirit. He did say His farewell as well.
The New Commandment of Love. Luke 22:24-30; John 13:31-35
The Denial of Peter Predicted. Matt 26:30-35; Mark 14:26-31; Luke 22:31-34; John 13:36-38
The Two Swords – Peter said they had 2 swords, probably for self-defense, and Jesus said those were enough. Luke 22:35-38
THE FARWELL/UPPER ROOM DISCOURSE : Let Not Your Hearts Be Troubled John 14:1-14; The Promise of the Helper John 14:15-26; The Gift of Peace John 14:27-31
6:00-11:30 pm, Thursday:  ON THE WAY TO GETHSEMANE
Jesus and Disciples left The Upper Room and On the Way to the Garden at Mount Olives John 14: 31b
Jesus the True Vine John 15:1-8; Remaining in My Love John 15:9-17; The World's Hatred John 15:18-25; The Witness of the Helper John 15:26-27; On Persecutions John 16:1-4; The Work of the Helper/ Comforter John 16:5-15; Sorrow Turned to Joy John 16:16-22; Prayer in the Name of Jesus John 16:23-28.
Jesus Predicted that His Disciples would flee and abandon Him John 16:29-33
Finally, Jesus' Intercessory Prayer for the Church John 17:1-26
THURSDAY 11:30 pm – FRIDAY 1:00 am
Garden of Gethsemane – Jesus waits for his arrest
Note, Gethsemane is garden across the Kidron Valley on the Mount of Olives Matt 26:36; Mark 14:32; Luke 22:39; John 18:1
Jesus' Prayer for Himself, praying that the Cup would be removed, but Not His Will but Father's Will must be done. His disciples were too sleepy to watch with Him. Matt 26:36-46; Mark 14:32-42; Luke 22:39-46; John 18:1
FRIDAY: GOOD FRIDAY. THE DAY OF CRUCIFIXION
1:00am-1:30am; Friday – Confrontation in Garden and Jesus' Arrest
Jesus' Betrayal and Arrest. Judas returned with the mob of angry and armed people; and he betrayed Jesus with a KISS Matt 26:47-50; Mark 14:43-46; Luke 22:47-48; John 18:2-9.
The Flight of the Disciples – At that point, all the disciples deserted him and fled. One of them even slipped out of his shirt and ran away naked when the mob grabbed him. Matt 26:56-56; Mark 14:50-52.
THE MULTI-PHASED RUSHED TRIALS; FRIDAY
1:30-3:00 am, Friday
Trial 1: Preliminary Hearing Before Annas, former Jewish High Priest for 16 years. Jesus receives initial physical abuse John 18:13-14, John 18:19-24
Peter's First Denial of Jesus Matt 26:69-70; Mark 14:54; Mark 66-68; Luke 22:54-57; John 18:15-18
Trial 2: Trial Before Caiaphas – Current Jewish High Priest, and the Sanhedrin Court. Jesus bloodied by abuse. Matt 26:57-68; Mark 14:53-65; Luke 22:54; Luke 22:63-65; John 18:24
3:00-5:00 am, Friday
Jesus was Imprisoned at Caiaphas' palace Matt 26:57; John 18:13
Peter's Second Denial of Jesus Matt 26:71-72; Mark 14:69-70a; Luke 22:58; John 18:25
5:00-6:00 am, Friday
Trial 3: Trial Before Sanhedrin. All the Jewish elders, including the High Priest, scribes and whole Sanhedrin. They decide to ask the Roman government to kill Jesus Matt 27:1; Mark 15:1; Luke 22:66-71
Peter's Third Denial and Rooster's Crow Matt 26:73-75 ; Mark 14:70-72; Luke 22:59-62; John 18:26-27
6:00-7:00 am, Friday
Pontius Pilate Roman Governor over the entire Judah/Judea
Trial 4: Trial Before Pilate. Hearing before Roman governor Pilate began. Pilate declared: "I find no guilt in this man". Matt 27:1-2; Mark 15:1 ; Luke 23:1; John 18:28-38
Judas Iscariot committed Suicide Matt 27:3-10
Trial Before Pilate continued Matt 27:11-14; Mark 15:2-5; Luke 23:2-5; John 18:28-38
7:00-7:30 am, Friday
Trial 5: Trial Before Herod. Hearing before Herod Antipas, the son of Herod the Great, who had jurisdiction over Galilee. Jesus refused to answer any questions, so, they mockingly put a royal robe on him and Herod returned him quickly to Pilate Luke 23:6-12
7:30-8:30 am, Friday: FINAL TRIAL AND SENTENCING
Trial 6: Second Trial Before Pilate
Pilate repeatedly tried to release Jesus, but the Jewish leaders continued to object. Pilate physically tortured and beat Jesus beyond recognition seeking to satisfy the Jewish leaders. However, the Jews demanded that Jesus be crucified. Pilate resisted but eventually gave the order to execute Jesus, because Pilate saw that he wasn't getting anywhere and that a riot was developing. (Matt 27:24)
Pilate Declares Jesus Innocent Luke 23:13-16
Pilate offered them a choice: Jesus or Barabbas? Matt 27:15-23; Mark 15:6-14; Luke 23:17-23; John 18:39-40
The Message from Pilate's Wife Matt 27:19.
The Choice to Release Barabbas – a notorious prisoner, a man in prison for insurrection and murder Matt 27:24-26
Jesus was Condemned. Pilate ordered Jesus flogged with a lead-tipped whip, then turned him over to the Roman soldiers to be crucified. Matt 27:24; John 19:1
Pilate Delivers Jesus to be Crucified. Matt 27:24-26; Mark 15:15; Luke 23:24-25; John 19:16
8:30-9:00 am, Friday
Jesus Mocked by the Soldiers
"Behold the Man!" – Pilate's Roman soldiers take Jesus into the court (the "Praetorium") and enjoy mockery; and continued torture, including driving thorns into his skull. "The Roman soldiers dressed him in a purple robe, and they wove thorn branches into a crown and put it on his head". Matt 27:28-31a; Mark 15:17-20a; John 19:1-15
9:00-12:00 noon, Friday
The Road to Golgotha, Jesus' Crucifixion and the Famous last 7 Words of Jesus
Golgotha is the hill of execution was outside the city walls of Jerusalem
 Jesus forced to carry his own cross, then actual crucifixion Matt 27:31-32; Mark 15:20-21; Luke 23:26-32; John 19:17a
Simon of Cyrene, a random man coming in from the countryside was grabbed and forced by the Roman soldiers to carry the cross of the exhausted convicted prisoner – Jesus' cross to Golgotha Matt 27:32; Mark 15:21; Luke 23:26
The Followers to Golgotha, including many grief-stricken women Luke 23:27-32
Arrival at Golgotha Matt 27:33      Mark 15:22     Luke 23:33a   John 19:17b
Jesus Rejects Wine Drugged with Myrrh/Gall (bitter narcotics) – just Before crucifixion, apparently to numb the pain Matt 27:34; Mark 15:23
@9:00am, Jesus was Crucified Matt 27:35a; Mark 15:24-25; Luke 23:33b; John 19:18a
The Criminals Crucified on Left & Right Matt 27:38      Mark 15:27     Luke 23:33b   John 19:18b
Famous Last Words #1 "Father, forgive them, for they don't know what they are doing" Luke 23:34a
Jesus Clothes Divided and 4 soldiers gambled for it as it was seamless. Matt 27:35b; Mark 15:24b; Luke 23:34b; John 19:23-24
The 4 Soldiers sat around and Guarded as He hung there. Matt 27:36
His "Charges" were displayed and fastened above His Head: "This is Jesus, the King of the Jews" Matt 27:37; Mark 15:26; Luke 23:38; John 19:19-20
The Reaction to the Charges: The Leaders wanted the sign changed. John 19:21-22
Mocking of Jesus on Cross by Passers-by. Matt 27:39-40; Mark 15:29-30; Luke 23:35
Mocking of Jesus on Cross by Jewish Leadership. Matt 27:41-43; Mark 15:31-32a; Luke 23:35
Mocking of Jesus on Cross by Soldiers Luke 23:36-37
Jesus Offered Wine and Vinegar  Luke 23:36
Mocking of Jesus on Cross by Criminals Matt 27:44; Mark 15:32b; Luke 23:39
The Repentant Criminal Luke 23:40-42
Famous Last Words #2: Jesus Responds to the Repentant Criminal: "I assure you, today you will be with me in paradise."  Luke 23:43
Last Words #3: Jesus Designates His Mother's Provision: He said to His Mother "Dear woman, here is your son." And to John His Disciple: "Here is your mother." John 19:25-27
12:00 noon – 3:00 pm, Friday
Momentous final 3 hours on the cross. At this time, Jesus stopped talking to people, and he focused on His "job".
Darkness covered the land for 3 hours: "At noon, darkness fell across the whole land until three o'clock." Matt 27:45; Mark 15:33; Luke 23:44-45a
3:00 pm, Friday: JESUS DIED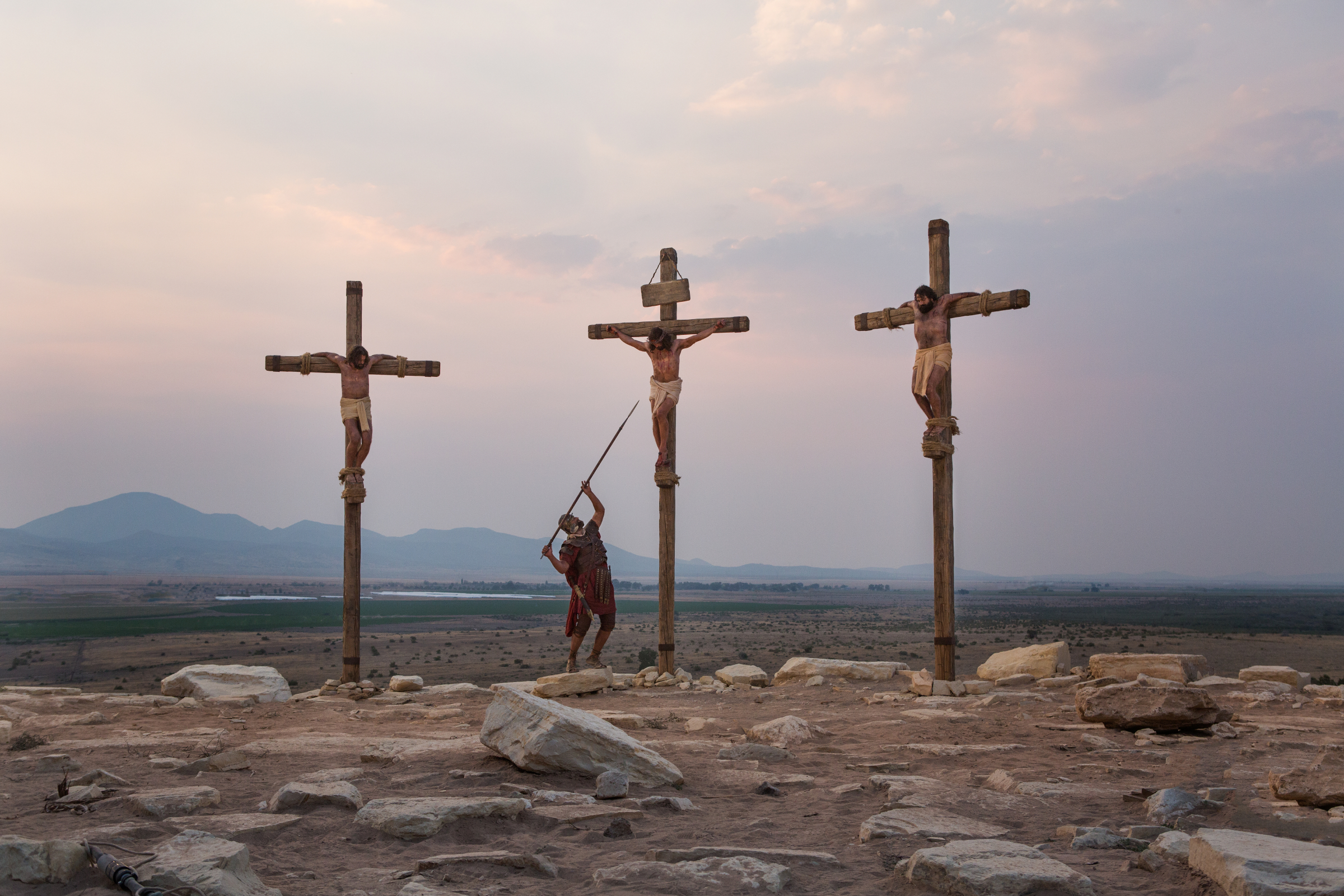 Famous Last Words #4

: "Eli, Eli, lema sabachthani?" which means "My God, my God, why have you abandoned me?" Matt 27:46; Mark 15:34.
Famous Last Words #5: "I am Thirsty." John 19:28
Crowd's Reaction to Utterance: they thought He was calling for Elijah. "Let's See if Elijah Saves Him". Matt 27:47,49; Mark 15:35,36b
Jesus Offered Wine and Vinegar   Matt 27:48; Mark 15:36a                 John 19:29
Jesus Receives the Wine and Vinegar                                          John 19:30a
Jesus' Loud Cry        Matt 27:50a    Mark 15:37a   Luke 23:46a
Famous Last Words #6: "Father, I entrust my spirit into your hands! Luke 23:46b.

Famous Last & Final Words #7:

"It is finished" John 19:30b. And he released his spirit.

Jesus Died.

Matt 27:50b; Mark 15:37b; Luke 23:46c; John 19:30c
AFTER JESUS' DEATH, FRIDAY
Many events rapidly followed, like: The Temple Curtain is Torn Matt 27:51a; Mark 15:38; Luke 23:45b; Earthquake Matt 27:51b; Resurrection of Dead Matt 27:52-53; Centurion's Reaction, terrified: "This man truly was the Son of God!" Matt 27:54; Mark 15:39; Luke 23:47; and The Crowd went home sorrowful Luke 23:48
Then the Deliberate Deals
Jews Request to Pilate John 19:31
The Soldiers Break Legs of 2 Criminals John 19:32
Soldier Pierces Side of Jesus with Spear: Jesus' leg was not broken because they noticed He died already. So, they pierced him instead John 19:33-34.
The Witnesses of the Death Matt 27:55-56; Mark 15:40-41; Luke 23:49; John 19:35-37
Nicodemus and Joseph of Arimathea, Friday Afternoon
Nicodemus, a member of the Jewish high council, made his debut when he came to Jesus by night in John 3. And Joseph, a rich man from Arimathea and a member of the Jewish high council who had become a follower of Jesus. Together, they buried Jesus according to Jewish custom.
Joseph of Arimathea took a Risk and Requests Body of Jesus from Pilate Matt 27:57-58a; Mark 15:42-43; Luke 23:50-52; John 19:38a
Pilate's Surprise at Jesus' Quick Death and had a Confirmation Hearing of Jesus' Death   Mark 15:44-45a
Pilate Gives Permission to Joseph of Arimathea Matt 27:58b; Mark 15:45b; John 19:38b
Joseph Buys Linen Cloth; while Nicodemus Brings 75 pounds (32 kg) of Myrrh and Aloes for Jesus' burial Mark 15:46a; John 19:39
Joseph Removes Jesus' Body from the Cross Mark 15:46b; Luke 23:53a
Jesus' Body is Wrapped in Linen Cloth and Spices Matt 27:59; Mark 15:46c; Luke 23:53b  John 19:40
Nicodemus and Joseph Place Jesus in Tomb Matt 27:60a; Mark 15:46d; Luke 23:53c; John 19:41-42
Female Witnesses Saw Jesus Laid in Tomb Matt 27:61; Mark 15:47;Luke 23:55
Stone Rolled in Front of Tomb Entrance  Matt 27:60b  Mark 15:46e
Joseph of Arimathea Leaves Matt 27:60c
Women Leave and Prepare Spices and Ointments to anoint Jesus' body. Luke 23:56a
SATURDAY
Jerusalem; Sabbath
The Women Rested on Sabbath – But by the time they were finished preparing spices and ointments the Sabbath had begun, so they rested as required by the law. Luke 23:56b
Jewish Leaders Requests Guard from Governor– Pontius Pilate Matt 27:62-64
Pilate Orders Tomb Security Matt 27:65
Tomb is Sealed Matt 27:66a
Tomb Guard is Posted Matt 27:66b
Women went to shop for spices in the evening. Saturday evening, when the Sabbath ended, Mary Magdalene, Mary the mother of James, and Salome went out and purchased burial spices, so they could anoint Jesus' body Mark 16:1
SUNDAY: RESURRECTION SUNDAY
Theme of the day: "Resurrection"
The Women at the Tomb. Early on Sunday morning, as the new day was dawning, Mary Magdalene and the other Mary went out to visit the tomb. Matt 28:1-8; Mark 16:2-8; Luke 24:1-12; John 20:1-13
The Empty Tomb. There has been an earthquake, and the Stone at the entrance has been rolled away, and
The Report of the Guard – they were bribed heavily and promised protection for the negligence in the cover story as to how the body disappeared Matt 28:11-15
Still Same Sunday
Jesus Appears to Mary Magdalene Matt 28:9-10; (Luke 24:10-11); John 20:14-18
Jesus Appears to Simon Peter 1 Cor 15:5; Luke 24:34
Jesus Appears to 2 Disciples on Emmaus Road Luke 24:13-35
Jesus Appears to his Disciples – Thomas was Absent Luke 24:36-43; John 20:19-23
Next Sunday
Jesus Appears to his Disciples – Thomas was Present 1 Cor 15:5; John 20:24-29
Sometimes Later
Jesus Appears to Eleven on Galilean Mountain Matt 28:16-20
Jesus Appears to More Than 500 1 Cor 15:6
Jesus Appears to James 1 Cor 15:7
One month later:
Jesus' Last Words and Ascension Luke 24:44-53 Acts 1:1-11
Soon Afterwards
Judas's Replacement is Chosen Acts 1:12-26
Pentecost: Helper Arrives Acts 2
Jesus Appears to Saul on Damascus Road 1 Cor 15:8; Acts 9:1-25
Much Later
Jesus Appears to Apostle John in the Island of Patmos. Yes, decades later.
All scriptures are from The Holy Bible, New Living Translation